The crumbling lakeside villa, which served as Aung San Suu Kyi's prison for 15 years during her house arrest, has become the source of a bitter family dispute between the Myanmar state counsellor and her brother.
Aung San Suu Kyi's estranged older brother, Aung San Oo, an engineer who lives in the US, has submitted an appeal at the supreme court, petitioning for the auction of the home and a share of the proceeds.
While the two-storey villa has long fallen into disrepair, Aung San Oo's lawyer said it is valued at $90m (£69m).
The colonial-style house at 54 University Avenue on the shores of Yangon's Inya Lake has gained revered status. For almost two decades, it was the hub of Aung San Suu Kyi's then-dissident political party, the National League of Democracy.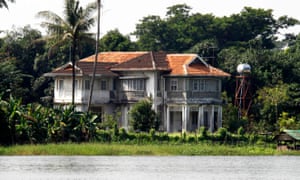 It became a familiar site on weekend afternoons to see Aung San Suu Kyi climb up on a fence or a rickety table outside the dilapidated house, which had once belonged to her parents, and make speeches promoting free speech and democracy to crowds of hundreds, sometimes thousands.
In 2012, it was through the gates of this villa that President Barack Obama historically drove through to meet Aung San Suu Kyi, accompanied by then secretary of state, Hillary Clinton, who rushed to emotionally embrace Aung San Suu Kyi in the driveway. However, she has not lived in the house since her release in 2012.
The legal action is not the first time Aung San Oo has made a claim on the family estate. He first sued Aung San Suu Kyi for the property in 2001, when she was still detained there by the military.
In 2016, after another dispute, a Yangon court ruled that the Myanmar state counsellor owned the main house, while another building on the property and some of the surrounding land on the belonged to her brother.
However, he is now disputing that ruling as "biased". "They gave her more than half and so I am not satisfied and I am asking this right now," Aung San Oo told Reuters. "I already let her live for free for 12 years. There is a limitation."
Speaking to reporters outside the court where he filed the petition, he added: "The money earned from putting the house and compound up for auction would be divided equally between us."
Aung San Suu Kyi's reputation as a beacon of democracy and free speech has been severely diminished over the past year in the wake of the ethnic cleansing against the Rohingya in Rahkine state and the imprisonment of journalists, though in Myanmar she still commands fierce loyalty.