Albania's Prime Minister Edi Rama has accused the UK of scapegoating his citizens to excuse its "failed policies" on borders and migration.
He told the BBC that Home Secretary Suella Braverman's remarks about the UK being invaded would fuel xenophobia.
Mr Rama said Britain was a role model on integrating minorities but was now becoming "like a madhouse".
The Home Office said it was working closely with Albania to tackle illegal migration.
Facing criticism at home and abroad, Ms Braverman is due to visit Dover later, after saying she would visit an overcrowded migrant processing centre in Manston, Kent "shortly".
The home secretary is not expected to take questions from the media in Dover, where an immigration facility was targeted in a firebomb attack last week.
Ms Braverman – who on Monday said southern England was facing an "invasion" of migrants – has also accused "many" Albanians of "abusing our modern slavery laws".
Last week, MPs were told 12,000 Albanians had arrived in the UK after crossing the English Channel so far this year, compared to 50 in 2020.
Of these, 10,000 were men – representing 1% of Albania's adult male population.
Albanians now represent the biggest group of those crossing the Channel in small boats.
In an interview with BBC Newsnight, Mr Rama said Ms Braverman's "invasion" comment was "crazy" and he had found it "impossible to not react".
He added: "It's not about one person. It's about the climate that has been created, and it's about finding scapegoats and blaming others.
"It's not about Albanians or aliens or gangsters, but it's about failed policies on borders and on crime.
"This kind of language is not a policy, is not a programme, is not a vision. [It] is nothing but fuelling xenophobia and targeting, singling out a community.
"I admire everything that Britain represents. But I really am disgusted about this kind of politics that at the end is doomed to fail."
It comes after Mr Rama tweeted earlier that the UK was "discriminating" against Albanians to distract from "policy failures".
A Home Office spokesperson said the government had worked closely with Albania on a range of issues, including on illegal migration, and that the readmissions agreement between the two nations had seen more than 1,000 Albanian foreign national offenders and others returned.
"Working together, we will continue to take every opportunity to intercept the activities of organised criminal gangs and people smugglers," they added.
Asked about Mr Rama's comments, Immigration Minister Robert Jenrick said he wanted a "productive relationship" with the Albanian PM.
"But it's also true that Albania is a demonstrably safe country, and the vast majority of people coming from Albania are young males," he told ITV.
"It is a good example of economic migrants, of the kind that we as a country should be trying our best to deter," he added.
'Horrible word'
Last week, Mr Jenrick said the government was looking at setting up a "bespoke route" for Albanians to have their immigration cases heard more quickly so they could be returned to Albania if their claims were unsuccessful.
But speaking on Sky News, Mr Jenrick said the UK must prioritise people in "genuine danger".
"I want to have a constructive and productive relationship with our Albanian friends," Mr Jenrick said. "But it is correct that a quarter of people who've come in small boats have come from Albania this year, and the NCA, our National Crime Organisation, has said that a very significant proportion of serious organised crime is emanating from those individuals."
On Monday, Ms Braverman agreed with suggestions by Conservative MP Lee Anderson that "Albanian criminals" were leaving a safe country to come to the UK.
He said if accommodation in the UK was not good enough for them, they could "get on a dinghy and go straight back to France".
Writing on Twitter, Mr Rama accused the home secretary of engaging in a "rhetoric of crime that ends up punishing the innocent".
United Nations Human Rights Commissioner Volker Türk has also criticised Ms Braverman's "invasion" comments – saying it was "a horrible word" and politicians had to make sure their language did not "add fuel to the fire on issues that are about human beings".
At the moment, the vast majority of those being sent back to Albania are convicted criminals who've served prison sentences – people who would expect to be deported under long-standing arrangements.
These are not the same people who have crossed the English Channel in recent months and sought asylum or filed human trafficking claims.
While the Home Office regards Albania as a safe country, if someone makes a plausible asylum claim it has to be considered.
That means these individuals would not be sent back until they have gone through the system and lost their case – a process that could take years.
The Home Office has an enormous in-tray of 101,000 unresolved asylum cases. The backlog has grown because case workers are taking more and more time to decide cases. This has been worsening for four years – and it's not clear what the four home secretaries over that period have done to fix it.
Hence the reason immigration policy experts and Albania's prime minister say the crisis in Kent is one of the government's own making.
Albania is considered a "safe country" by the UK and is listed as a "designated state" under UK law, meaning there is generally "no serious risk of persecution" for people living there.
However, it is thought some Albanian migrants make asylum claims on the grounds that they have been trafficked to the UK.
Currently Albanians are the nationality most commonly referred for trafficking support in the UK.
Harjap Bhangal, an immigration lawyer, told BBC Newsnight that Albanians were being "targeted" by gangs, resulting in the high numbers travelling to the UK.
"Gangs are targeting Albanians and they're saying, 'Well, hold on, you want a better life. If you want to claim asylum in the UK, we can get you that'," Mr Bhangal said.
Some 7,627 Albanians claimed asylum in the UK in the year up to June, more than double the number the previous year.
Albanians are less likely to be granted asylum than other nationalities, with the current rate at 53% compared with 76% for other nationalities.
But the latest figures will not include most of those who have arrived this year, as very few of these individuals will have had their asylum applications considered yet.
In 2022 – in the months to June – 440 people were returned to Albania from immigration detention centres. Almost all were single adult men.
Albanians also represented the highest number of foreign offenders sent back in the year to March 2022.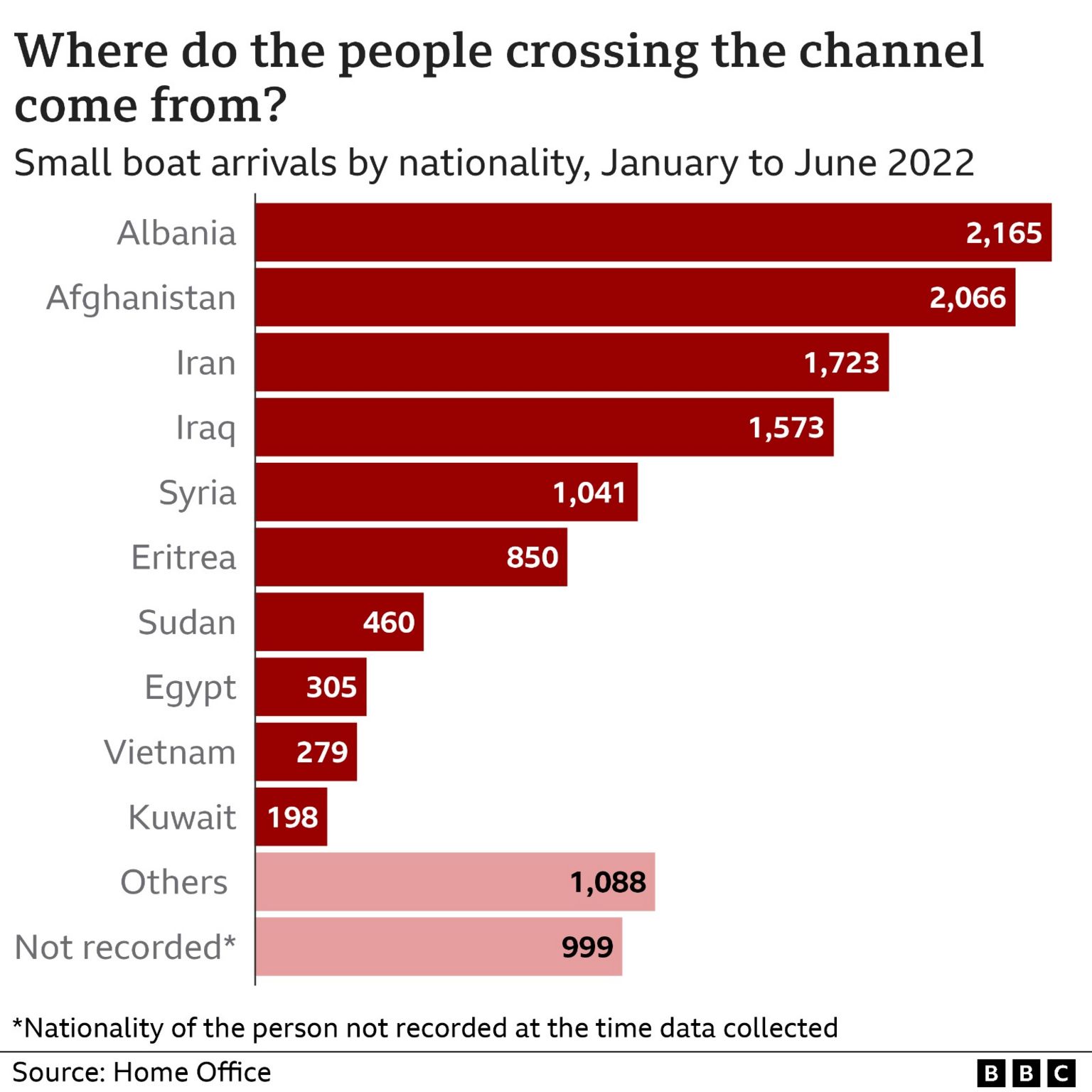 During Prime Minister's Questions earlier, Rishi Sunak admitted not enough asylum claims were being processed and promised to fix the system.
Last week MPs were told just 4% of those who crossed the Channel in small boats in 2021 had received decisions on their asylum claims.
Labour leader Sir Keir Starmer accused the government of having lost control.
Almost 40,000 people have crossed the Channel in small boats so far in 2022 – the highest number since figures began to be collected in 2018.
Ms Braverman has been under pressure to tackle severe overcrowding and poor conditions at the Manston migration processing centre in Kent, which ministers have blamed on an increase in migrant crossings in recent days.
Mr Jenrick has confirmed that the Home Office is facing a potential legal challenge over Manston centre, although he declined to say who was behind it.
He told Sky News the department had received "initial contact" for a judicial review – a process that could lead to a judge deciding whether the government has acted lawfully.
Council leaders in Kent warned the county was at "breaking point" because of the burden of accommodating migrants, and that the conditions at Manston could lead to unrest.
Source: BBC