It didn't take long for me to realize that, as an American, I was in the minority at the Mangrove Beach Corendon Curacao All-Inclusive Resort.
As I wandered the oceanfront property shortly after check-in, I could overhear far more Dutch being spoken than English. At the buffet's self-serve draft beer station, Heineken reigned supreme. And while the Corendon Hotels & Resorts brand may be unfamiliar to those of us in the U.S., a quick Google search revealed that it's part of Dutch conglomerate Corendon International Travel, which also has growing airline and tour operator offshoots.
Later, during a discussion with the resort's general manager, Biray Ogut, I discovered that, on average, Dutch tourists have traditionally accounted for around 50% to 60% of the property's overall guests. (Curacao, which has been self-governed since 2010, remains a constituent country of the Netherlands.) American tourists generally account for 15% of resort guests.
That mix, however, is starting to change.
Roughly a year ago, the 399-room Mangrove Beach Corendon Curacao, which made its debut in 2020, joined Hilton's Curio Collection. The move instantly boosted the resort's profile among North American travelers.
"As soon as we joined Hilton at the beginning of September 2021, we saw demand start increasing and saw a good number of reservations coming from the U.S., along with other countries," said Ogut.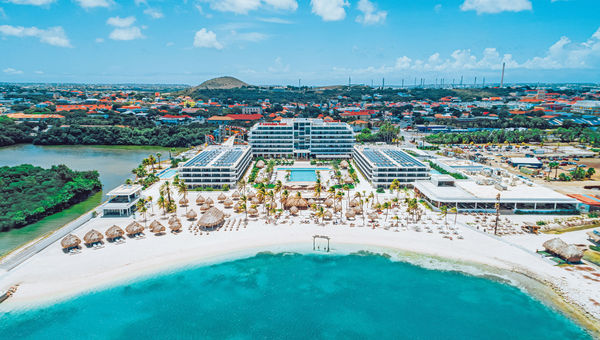 The Mangrove Beach Corendon Curacao All-Inclusive Resort has the largest room count of any property on the island. Photo Credit: Courtesy of Mangrove Beach Corendon Curacao All-Inclusive Resort, Curio by Hilton
The all-inclusive arms race
The Mangrove Beach Corendon Curacao's partnership with Hilton is representative of the current arms race between some of global hospitality's largest players. In addition to Hilton, Marriott International, Hyatt Hotels Corp., Wyndham Hotels & Resorts and others are aggressively growing their all-inclusive portfolios.
In Curacao, for example, the Mangrove Beach Corendon Curacao is far from the only recent newcomer. All-inclusive stalwart Sandals Resorts, which like Hilton enjoys plenty of name recognition among North Americans, debuted its 351-room Sandals Royal Curacao property earlier this year.
There are three all-inclusive resorts flagged under Hyatt's AMResorts portfolio on the island: the Dreams Curacao Resort, Spa & Casino; Zoetry Curacao Resort & Spa; and the Sunscape Curacao Resort, Spa & Casino.
As the number of higher-profile brands planting their flag in Curacao grows, Ogut hopes that it will have the domino effect on U.S. airlift to the destination.
"American brands are investing in Curacao," said Ogut. "And together, we are all working to increase the flights coming from the U.S. We have 385 more rooms coming, so we need more flights."
Catering to Americans
Americans are a particularly attractive guest demographic, Ogut said, as they tend to be more eager than its traditional Dutch guests to splurge on more premium room categories and other add-ons.
Having guests from the U.S. is helpful in the resort's aim of increasing average daily rate, he said. "They want the best quality, and they're willing to pay for the best quality."
Growing that valuable contingent of U.S. guests will be a key part of the property's strategy moving forward. Although the Mangrove Beach Corendon Curacao is already Curacao's largest resort by room count, the property's ownership plans to nearly double its footprint, recently breaking ground on a higher-end sister resort concept next door.
Preliminary plans for the adjacent 385-room property, which is on track to open next year, include larger rooms and more luxury accommodation categories, including swim-out suites. Premium beverage options will be included as part of the standard offering at the resort, and the project is also expected to include upscale amenities like a Starbucks and a private beach area with a beach club-inspired venue.
Rooms will be priced above those at the Mangrove Beach Corendon Curacao, where entry-level rates typically sit in the $250- to $450-per-night range. Although it will be a separate concept, guests staying at the Mangrove Beach Corendon Curacao will be able to upgrade their stay in order to access amenities, restaurants and bars at the neighboring resort.
"Since we converted to the Curio Collection by Hilton, we've seen that the needs of our U.S. guests are different," said Ogut. "And so, we are changing our concept here to meet the needs of those guests." 
Source: Travelweekly