In what marked a historic day for Congress, Kevin McCarthy was ousted from his role as speaker of the House of Representatives on Tuesday – after less than nine months in the role.
The Florida congressman's fate was sealed by his own warring party, as eight Republicans joined Democrats to vote to remove him from the speakership.
Mr McCarthy had grown increasingly at odds with the far-right wing of the party – notably lead rebel and MAGA Republican Matt Gaetz.
Mr Gaetz had filed a motion to vacate the speaker in outrage that Mr McCarthy struck a deal with Democrats to avert a government shutdown – one that could have temporarily shuttered key services for American people and furloughed federal workers.
After Democrats declined to bail out the speaker and members of his own party turned on him, Mr McCarthy was removed in a 216-210 vote to vacate on Tuesday night – marking the first time in American history that a speaker has been ousted by other lawmakers.
Now, the House has been left in turmoil – with no leader at a time when the US is once again careening towards a government shutdown.
So who will be his successor?
Here's a look at some of the possible contenders:
Steve Scalise
A man emerging as a possible frontrunner is Steve Scalise, who currently serves as House majority leader – the number two among House Republicans.
The Louisiana congressman was tipped as a possible challenger to Mr McCarthy back in January, but he refused to compete against him at the time.
Now that Mr McCarthy is out, Mr Scalise has announced that he's running.
In a letter to colleagues on Wednesday 4 October, he referenced being shot at a 2017 congressional baseball practice, writing, "I firmly believe this Conference is a family. When I was shot in 2017, it was Members of this Conference who saved my life on that field. When I made it to the hospital and my family was told my chances of surviving were low, it was the prayers from all of you that carried us through".
"You know my leadership style I've displayed as your Majority Leader and Whip. I have a proven track record of bringing together the diverse array of viewpoints within our Conference to build consensus where others thought it impossible," he added.
Before he announced, Mr Scalise said on Tuesday night that "clearly within our conference, we have a very tight majority. Getting things done is going to be difficult in the tight majority. It still will be so no matter who's going to be the next speaker, the challenges still remain, but I think the opportunity is there to continue moving forward".
When asked if he is physically up to the job – after several health issues including battles with blood cancer and injuries from the baseball practice shooting in Virginia – he insisted: "I feel great."
Mr Gaetz – whose rebellion has led the House into its current turmoil – also floated Mr Scalise as the next speaker on Tuesday night.
"I think the world of Steve Scalise, I think he'd make a phenomenal speaker," he said. "He'd be the type of person that I could see myself supporting. There are many people, though."
Mr Scalise is not without his controversies, having come under fire after it emerged he gave a speech to a white supremacist group founded by former Ku Klux Klan grand wizard David Duke in 2002.
Tom Emmer
Mr Gaetz also touted some other names he might back for speaker on Tuesday night – one of them being Tom Emmer.
"I could see myself supporting [House majority whip] Tom Emmer. I could see myself supporting Mike Johnson of Louisiana. I could see myself supporting Jodey Arrington of Texas. I could see myself supporting Kevin Hern of Oklahoma," he said.
Mr Emmer, a Minnesota congressman since 2014, became the House majority whip earlier in the year.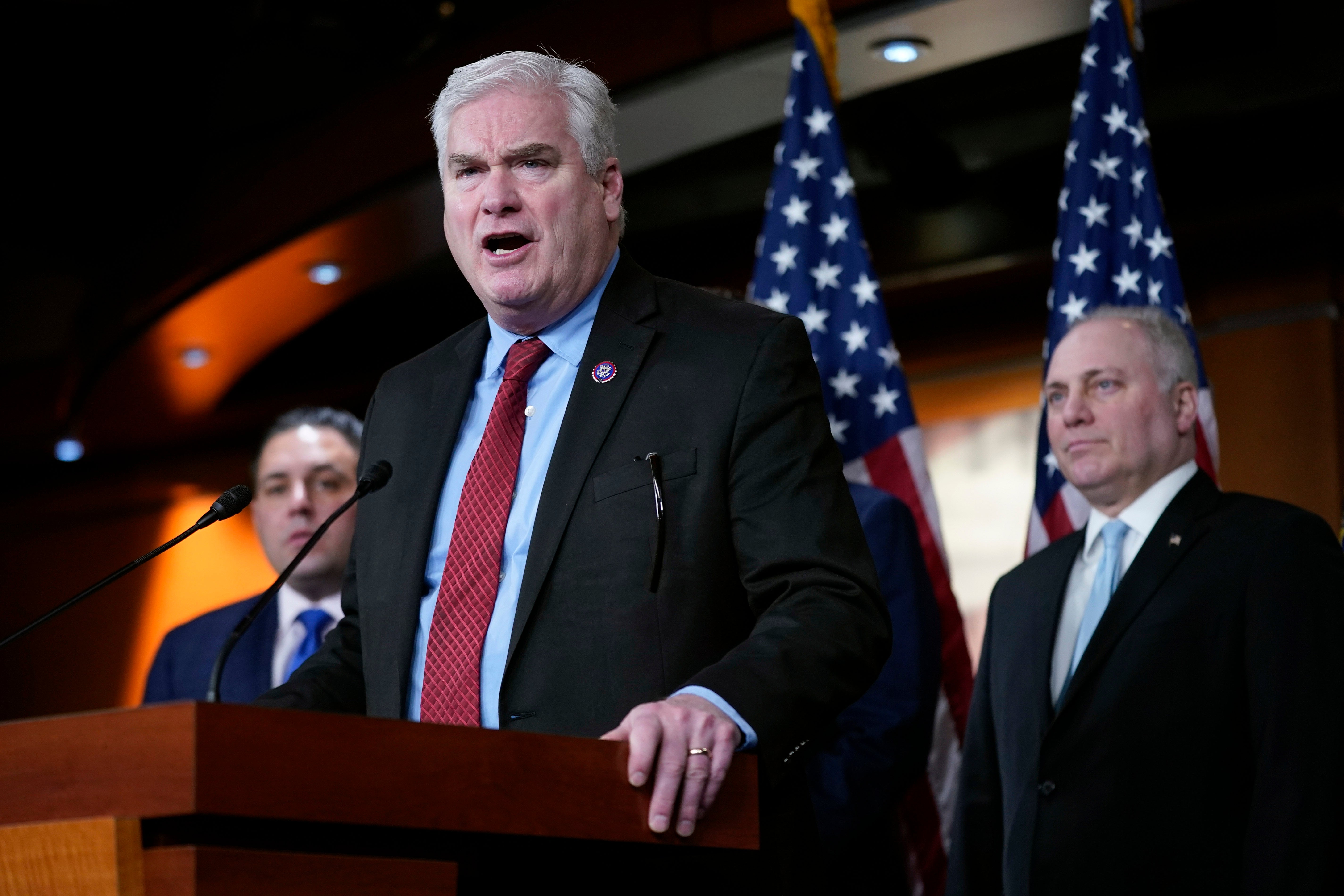 Mr Emmer served as chairman of the National Republican Congressional Committee for two cycles. In the first cycle, he successfully defeated numerous Democratic incumbents, giving then-House speaker Nancy Pelosi a much slimmer majority with which to govern.
He stayed in the job for the 2022 cycle when Republicans won the House, meaning he knows many of the freshmen incumbents and funneled money to them when needed. His time in the post also gave him significant facetime with Republican donors – a skill that would benefit him in a speaker's race.
Despite his name instantly cropping up, Mr Emmer indictaed on Tuesday that he doesn't plan to run – but will instead back Mr Scalise.
"Steve Scalise has been a friend for a long time. He would be a great speaker," he told reporters.
Jim Jordan
Jim Jordan confirmed on Wednesday morning that he is running for the role of speaker of the House.
When asked by reporters if he is entering the race, the Donald Trump ally and man who has spent over 500 days ignoring a subpoena to testify about his actions on the day of the January 6 Capitol riot responded with a firm "YES".
As one of the staunchest members of the far-right, MAGA arm of the Republican party, Mr Jordan is known for founding the right-wing Freedom Caucus in 2015.
He continues to serve as chairman of what has become known as the most right-wing caucus in the GOP party, with a record that includes trying to dismantle the Affordable Care Act multiple times.
Following Mr Trump's loss in the 2020 presidential election, Mr Jordan played a key role in efforts to overturn the results – and for the former president to stay in power against the will of the American people.
He is known to have taken part in meetings with the former president where they made plans to fight the election results including one meeting at Trump campaign headquarters in November 2020 and another at the White House that December.
He has also admitted that he and Mr Trump spoke on the day of the January 6 Capitol riot – but refuses to reveal the nature of the calls.
Even faced with a subpoena, he refused to cooperate with the House select committee investigating the Capitol insurrection and so many questions remain unanswered to this day about his actions on and around that day.
Despite his controversies, he has risen up the GOP ranks in recent years with Mr McCarthy making him chair of the powerful Judiciary Committee back in February.
While he has a history of vehemently opposing bipartisanship, Mr Jordan also appears unlikely to be able to secure enough votes from within his own party to win the speakership.
One prominent example of his standing in Republican circles comes from an iconic quote from former House Speaker John Boehner, who labelled Mr Jordan a "legislative terrorist".
Patrick McHenry
Following Mr McCarthy's removal, North Carolina Rep Patrick McHenry instantly became speaker pro tempore.
This means that he is now the temporary leader of the House until the party nominates and successfully elects Mr McCarthy's replacement.
As a close ally of Mr McCarthy, he has often served as a liaison between conservatives and leadership.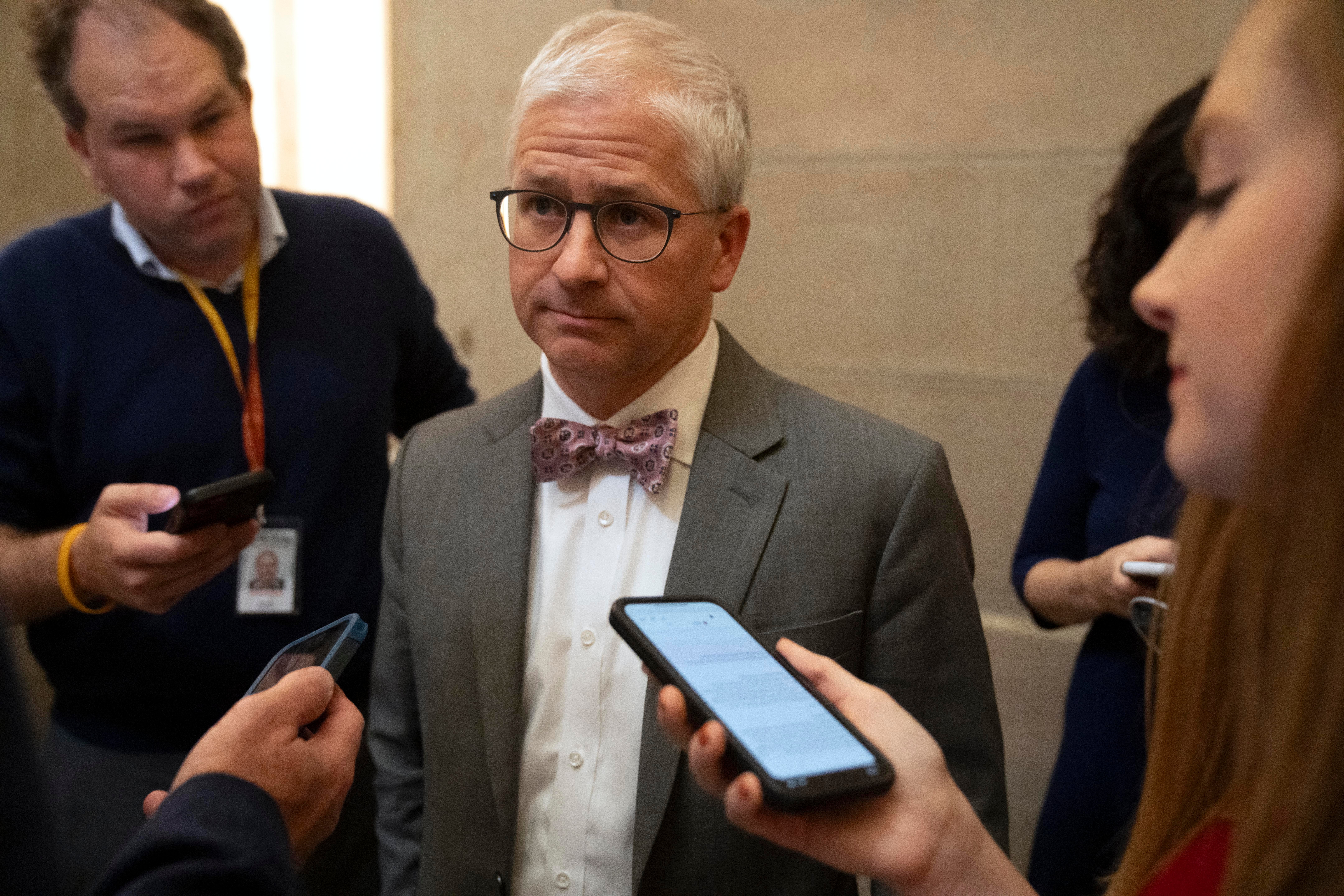 He also has a strong enough relationship with Democrats both on the committee he leads and with the White House, recently playing a key role in negotiations with the Biden administration on raising the debt ceiling.
He is also one of only a handful of House Republicans who did not vote to overturn the 2020 presidential election results.
While this might make him a possible favourite to Democrats and some moderate Republicans, this bipartisanship could make him an unlikely choice for hardline Republicans.
However, as chairman of the House Financial Services Committee, Mr McHenry does also have significant contacts with the financial industry and top donors.
Kevin McCarthy
While he has been ousted, there is nothing stopping Mr McCarthy from making another bid for his old job.
However, this seems unlikely based on his comments immediately after he was voted out of the speakership.
Speaking at a press conference on Tuesday night, Mr McCarthy said that he will not run for his old job again – and cast doubts on his future within the House of Representatives at all.
McCarthy hits back after Matt Gaetz-led coup to oust him
"I will not run for speaker again. I'll have the [Republican] conference pick somebody else," he said, adding that Mr Gaetz's plot to oust him "was personal".
Donald Trump
A growing number of far-right Republican lawmakers including Marjorie Taylor Greene are now calling for Donald Trump to become the next House speaker.
MAGA Republican Ms Greene took to X, formerly Twitter, on Tuesday night to claim that the former president is the "only candidate" she will back to take the gavel.
"The only candidate for Speaker I am currently supporting is President Donald J. Trump. He will end the war in Ukraine. He will secure the border," she said.
"He will end the politically weaponized government. He will make America energy independent again. He will pass my bill to stop transgender surgeries on kids and keep men out of women's sports. He will support our military and police. And so much more! He has a proven 4 year record as President of the United States of America. He received a record number of Republican votes of any Republican Presidential candidate! We can make him Speaker and then elect him President! He will MAKE AMERICA GREAT AGAIN!!!"
She was joined by a handful of other Republican representatives – including Texas lawmaker Troy Nehls and Florida Rep Greg Steube – who also said they were throwing their support behind the former president.
Mr Trump could be elected as the next speaker as, under the rules of Congress, the speaker does not have to be a current sitting member in the House. That said, every speaker in the history of the US so far has been.
Back in January, when Mr McCarthy was struggling to get enough votes from his own party to secure his speakership, Mr Gaetz touted the former president as a possible candidate and cast his vote for Mr Trump.
Mr Trump is yet to comment on the growing calls to nominate him to replace Mr McCarthy however it comes at a time when he is campaigning to take back the White House in 2024.
Hakeem Jeffries
As the House minority leader, Hakeem Jeffries is the top Democrat in the House.
Back in February, Mr Jeffries gained more votes during 11 rounds of voting in the speaker's election than Mr McCarthy.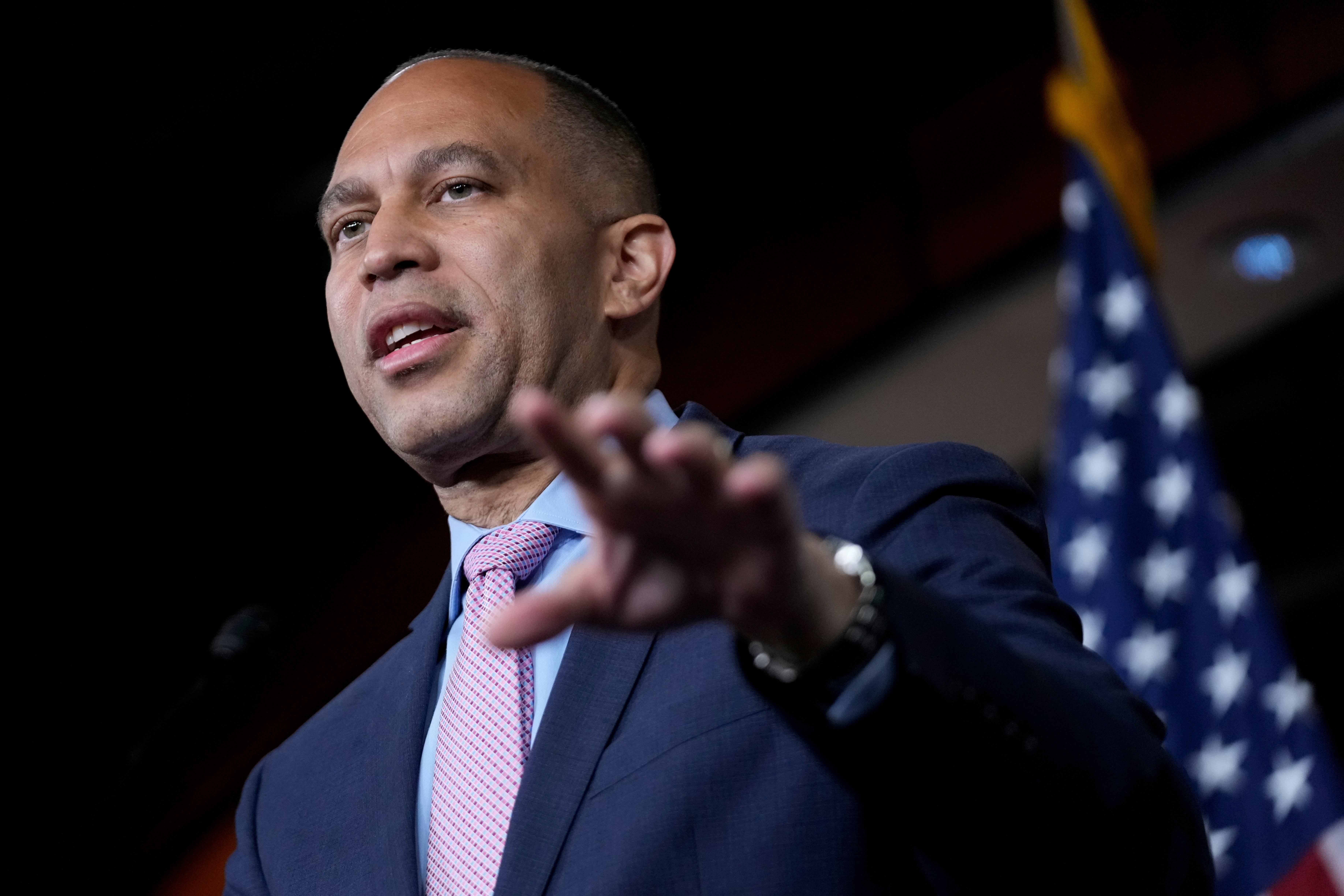 But, as Democrats hold the minority in the lower chamber, he would need Republican support to take the helm.
While this may seem unlikely, it's possible that – if Republican infighting continues, the majority party can't agree on a candidate and a government shutdown looms – some moderate Republicans might find Mr Jeffries a more suitable choice.
Source: The Independent